July 26, 2018
Finance Factors Supports Homeless Families at Kahauiki Village with Proceeds from Charity Breakfast
Over 70 volunteers helped to raise $12,400 for the aio Foundation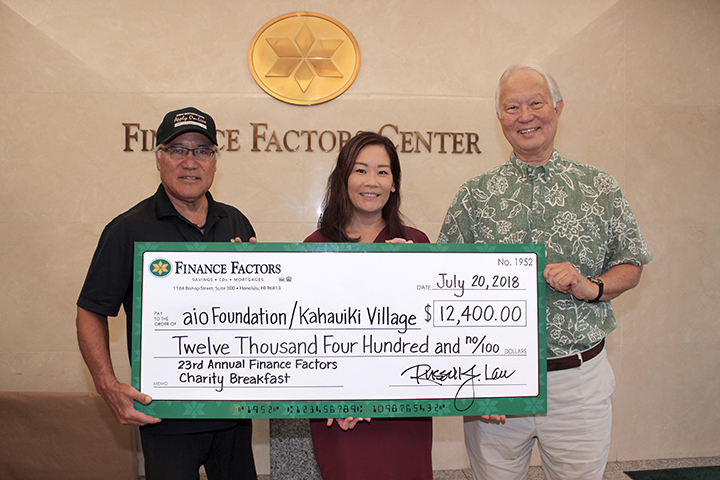 Finance Factors' 23rd Annual Charity Breakfast raised $12,400 for aio Foundation's Kahauiki Village, a groundbreaking initiative to create an affordable plantation-style community as long-term housing for Hawaii's homeless families. Once completed, the project will provide transitional shelters to half of Hawaii's homeless population.
"Giving back to the community is one our top priorities and the Charity Breakfast is our signature community giving event," said Steven Teruya, president of Finance Factors. "We are proud to support Kahauiki Village and its creative approach in helping local families get affordable housing and access to the essential resources they need to begin living independently."
Hundreds of people gathered in front of the Finance Factors Center at the top of Bishop Street to make a $6 donation to the aio Foundation on behalf of Kahauiki Village in exchange for a local-style breakfast of Portuguese sausage, eggs and rice.
"We extend our deepest mahalo to Finance Factors for recognizing the importance of Kahauiki Village in alleviating our state's homeless crisis and its support for so many charitable causes across the state," said Melvin Kaneshige, Project Developer of Kahauiki Village. "When completed, Kahauiki Village is expected to house more than 600 adults and keiki, and Finance Factors' donation will help us achieve our vision."
More than 70 employees from Finance Factors worked side-by-side to set up and prepare for the Charity Breakfast, which sold over 1200 breakfast plates.
Since the first Charity Breakfast in 1995, the event has served over 24,000 breakfasts, raising more than $157,000 for over a dozen local charities, including the American Red Cross of Hawaii, Waikīkī Health Center, Abilities Unlimited, Lanakila Meals on Wheels, Aloha United Way, Pacific Gateway Center, Kupu, and more.
About Finance Factors
Finance Factors has been providing financial services in Hawaii for more than 60 years. Started in 1952 by several island families, the company has grown from a small local enterprise that pioneered personal loans for Hawaii's families, into Hawaii's largest locally-owned depository financial services loan company. Finance Factors (NMLS #449916) specializes in residential loans for purchase, refinance, cash-out, and home equity, as well as commercial real estate loans. Finance Factors also offers some of the best rates on certificates of deposit and savings accounts, with deposits insured by the FDIC.
About aio Foundation and Kahauiki Village
The aio Foundation is a 501(c)(3) nonprofit that supports programs that empower Hawaii. The Foundation's aim is to provide young people with skills and knowledge to be self-sustaining, community-minded individuals who work toward making the islands a better place for future generations to come. Kahauiki Village, the Foundation's marquee project, offers affordable plantation-style community housing, job assistance programs and childcare services for qualified families. For more visit www.kahauiki.org